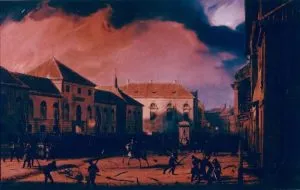 Picture Marcin Zaleski "Seizure of the Arsenal on the night of November 29, 1830 Year" from the National Museum in Warsaw. Fot. Fig. PAP/W. PAP / W. Kryński Kryński. 
Obraz Marcina Zaleskiego "Wzięcie Arsenału w noc 29 listopada 1830 roku" ze zbiorów Muzeum Narodowego w Warszawie. Fot. PAP/W. Kryński
On the night of 29th of November, 1830 the November Uprising had started in Warsaw. It was a fight for Polish independence directed against the Russian occupiers. For ten months 140 thousand soldiers have fought the greatest military power in Europe with varied degree of success. Begun on a November night the uprising was the largest effort in the Polish armed liberation struggles of the nineteenth century.
The outbreak of the November Uprising was preceded by the creation in 1828 of a secret conspiracy headed by Lt. Piotr Wysocki at the School of Infantry in Warsaw. The creation of the organization was a consequence of the deteriorating political situation in the Polish Kingdom. The conspiracy, numbering about 200 members and having additional links to the local student community, began preparing for an armed uprising. The conspirators intended to take control of the capital and immediately transfer the power to the politicians trusted by inhabitants of the city. This was the reason why the Wysocki conspiracy did not create any clear socio-political program and made no plans to take power once the uprising has started.
The year 1830 brought in Warsaw large increases in food prices and higher unemployment causing an increased radicalization of Polish workers and craftsmen and leading to minor riots and even strikes in the capital. This situation affected the attitude of the conspirators. They started to count on the support of Warsaw civilians at the start of the fighting.
The events that took place in Europe also had an impact on the increase of tension in the Polish Kingdom and, consequently, on the outbreak of the uprising. In July a revolution broke out in France. In August the Belgians began fighting for their independence from the Netherlands. These insurrections, as contrary to the findings of the Congress of Vienna, led Tsar Nicholas I to start preparations for armed intervention against Belgium and possibly France.
The announcement on the 19th of November of the increased combat readiness order for the Russian army and the Polish troops (under the Russian command) strongly influenced the leaders of the Wysocki conspiracy. They decided to take immediate action to start the uprising. This reaction was caused not only by the apprehension of the fight along the Russians against the French and the Belgians. According to historians, the conspirators guessed that the proposed war expedition was a smokescreen for introduction into the Polish Kingdom of troops from Russia to pacify the country, to abolish the constitution, and to liquidate the Polish Army. In addition, some members of the conspiracy knew that the police has detected some of their cells and they may soon be arrested.
The uprising was scheduled for November the 29th at 6pm. The start of the "November Night" was thus described by lieutenant Piotr Wysocki: "About six o'clock a mark for simultaneous commencement of hostilities was given by burning of the Solec brewery in the vicinity of the Russian cavalry barracks. The Polish troops moved from their barracks to the indicated positions. I hurried to the barracks of the cadets. In the hall a tactics lecture was taking place. Running into the hall I called out to the brave young people: "Poles! This is the hour of revenge! Today we will die or win! Let's go! Let your breasts be the Thermopylae for your enemies!" Hearing this speech and my booming voice "To arms! To arms! " the youth grabbed their rifles, loaded them and like lightning rushed after their commander. There were a hundred and sixty of us."
On the night of 29th of November the conspirators failed to implement all their plans. A group of conspirators led by Ludwik Nabielak and Seweryn Goszczyński attacked the Belvedere, the residence of the Grand Duke Constantine, but failed to capture him. Some of the conspirators did not see the signal of the brewery burning signal and therefore did not take the action or did so belatedly. Instead the fire alerted the Russian troops. At that time there were 6.5 thousand Russian and 9.8 thousand Polish soldiers stationed in Warsaw.
The cadets from the Lazienki Barracks after a short battle with numerically superior Russian troops had to break through toward the Three Crosses Square. Walking along the Nowy Swiat and Krakowskie Przedmieście streets which were inhabited by the rich bourgeoisie and the aristocracy they allegedly shouted, "To arms, Poles!" But their response was merely closing of doors and shutters. The senior Polish officers encountered by the conspirators refused to participate in the "youthful brawl" and did not want to take control of the uprising. Some of them paid for their opposition with death. On that November night six Polish generals died at the hands of the conspirators : Maurycy Hauke, Stanislaw Trębicki, Stanislaw Potocki, Ignacy Blumer, Tomasz Siemiątkowski and Józef Nowicki along with several other senior Polish officers.
Lt. Wysocki was still counting on attracting to the uprising the Old City residents and therefore kept moving the insurgents towards the Arsenal. He also hoped that the junior officers belonging to the conspiracy manage to bring over most of the units of the Polish Army. Some of the regular Polish troops actually supported the uprising but many Polish units were confused and either took a neutral position or remained under the command of the Russian Grand Duke Constantine.
The turning point was taking over of Warsaw Arsenal by the people of Warsaw. This came about at 9pm with the participation of soldiers of the 4th Infantry Regiment. After midnight, the Polish Army units supporting the insurrection together with the armed civilians took over the area of the Old City, the Arsenal and the Powisle area, also controlling the Vistula bridges and the Praga suburb on the other side of the Vistula.
In turn, the Russian troops and the Polish units faithful to the Grand Duke Constantine were in the north around Broni Plaza and in the south around the Ujazdowskie Avenue where they were commanded by the Grand Duke himself. The neutral Polish units were standing on the squares: Bankowy, Saski, and Krasinski.
During the night the insurgents took over the Leszno quarter and the Bankowy and Saski squares. Next morning they had in their hands the entire city except the Broni Plaza and the Ujazdowskie Avenue. At that time Grand Duke Constantine decided against recapturing the capital and withdrew his faithful troops to Wierzbno.
On the 30th of November Warsaw was free but its inhabitants – divided. The most important question then was whether to take an open war with Russia or to seek a compromise with her.
The people of Warsaw argued for war. However, because of the lack of the government by the insurgents the Polish conservative politicians seized power. Their attempts to negotiate with the Grand Duke Constantine, undertaken by the Administrative Council which did not believe in the success of the uprising, have been torpedoed by the Patriotic Club composed of mainly of the intellectuals headed by Joachim Lelewel and Maurice Mochnacki.
As a result of pressure from the Club on December 3, 1830 the Provisional Government was proclaimed, headed by Prince Adam Jerzy Czartoryski and including Lelewel. Negotiations with Grand Duke Constantine were completed by the agreement the Polish units under his command would return to Warsaw while the duke himself together with the Russian troops will leave towards the border.
Thirty years after the end of the November Uprising an anniversary of its outbreak was an opportunity to organize a huge manifestation of the patriotic inhabitants of Warsaw. There they sang a song composed by Alojzy Feliński in honor of Tsar Alexander I, changing its words to "Our free homeland deign to return to us, Oh Lord." The manifestation was associated with an increase of anti-Russian attitudes which resulted in the outbreak of yet another insurrection, the January Uprising of 1863.
---
186 lat temu wybuchło powstanie listopadowe
W nocy z 29 na 30 listopada 1830 r. w Warszawie rozpoczęło się powstanie listopadowe – zryw niepodległościowy skierowany przeciwko rosyjskiemu zaborcy. Przez 10 miesięcy 140 tys. ludzi prowadziło walkę z największą potęgą militarną Europy, odnosząc w niej poważne, lecz przejściowe sukcesy. Rozpoczęte w listopadową noc powstanie narodowe było największym wysiłkiem zbrojnym w polskich walkach wyzwoleńczych XIX wieku.
Wybuch powstania listopadowego poprzedziło utworzenie w 1828 roku tajnego sprzysiężenia w Szkole Podchorążych Piechoty w Warszawie, na czele którego stanął ppor. Piotr Wysocki. Powstanie organizacji było konsekwencją pogarszającej się sytuacji politycznej w Królestwie Polskim. Sprzysiężenie, liczące ok. 200 członków i mające kontakty ze środowiskiem studenckim, rozpoczęło przygotowywania do wystąpienia zbrojnego. Spiskowcy zamierzali opanować stolicę i oddać władzę w ręce polityków cieszących się zaufaniem społecznym. Dlatego też sprzysiężenie Wysockiego nie stworzyło wyraźnego programu społeczno-politycznego, ani nie przygotowało władz przyszłego powstania.
W nocy z 29 na 30 listopada spiskowcom nie udało się zrealizować wszystkich zamierzeń. Grupie spiskowców atakującej Belweder z Ludwikiem Nabielakiem i Sewerynem Goszczyńskim na czele nie powiodła się próba pojmania wielkiego księcia Konstantego
Rok 1830 przyniósł w Królestwie Polskim radykalizację nastrojów wśród robotników i rzemieślników, wynikającą m.in. ze wzrostu cen żywności i pojawiającego się bezrobocia. W stolicy dochodziło do drobnych rozruchów, a nawet strajków. Ta sytuacja wpłynęła na postawę spiskowców. Zaczęli oni liczyć na wsparcie warszawiaków w chwili rozpoczęcia walk.
Na wzrost napięcia w Królestwie Polskim, a w rezultacie również na wybuch powstania, duży wpływ miały także wydarzenia rozgrywające się w Europie. W lipcu wybuchła rewolucja we Francji, a w sierpniu Belgowie rozpoczęli walkę o niepodległość, której celem było oderwanie się od Holandii. Te wystąpienia, jako sprzeczne z ustaleniami Kongresu Wiedeńskiego, skłoniły cara Mikołaja I do rozpoczęcia przygotowań do zbrojnej interwencji przeciwko Belgii i ewentualnie Francji.
Ogłoszenie 19 i 20 listopada 1830 roku rozkazu stawiającego w stan pogotowia armię rosyjską i Wojsko Polskie zasadniczo wpłynęło na decyzję przywódców tajnej organizacji Wysockiego o podjęciu natychmiastowych działań w celu rozpoczęcia powstania. Reakcja ta wywołana była nie tylko obawą przed wspólną walką z żołnierzami rosyjskimi przeciwko Francuzom i Belgom. Zdaniem historyków spiskowcy domyślali się, że projektowana wyprawa wojenna stanowiła zasłonę dymną przed wprowadzeniem do Królestwa oddziałów rosyjskich celem pacyfikacji kraju, zniesieniu konstytucji i likwidacji Wojska Polskiego. Ponadto część członków sprzysiężenia zdawała sobie sprawę, że policja wykryła niektóre jego ogniwa i wkrótce nastąpić mogą aresztowania.
Wybuch powstania wyznaczono na 29 listopada na godz. 18. Początek nocy listopadowej tak opisywał ppor. Piotr Wysocki: "O godzinie szóstej dano znak jednoczesnego rozpoczęcia wszystkich działań wojennych przez zapalenie browaru na Solcu w bliskości koszar jazdy rosyjskiej. Wojska polskie ruszyły z koszar do wskazanych stanowisk. Ja pośpieszyłem do koszar podchorążych. W salonie podchorążych odbywała się wtenczas lekcja taktyki. Wbiegłszy do sali, zawołałem na dzielną młodzież: +Polacy! Wybiła godzina zemsty. Dziś umrzeć lub zwyciężyć potrzeba! Idźmy, a piersi wasze niech będą Termopilami dla wrogów!+. Na tę mowę i z dala grzmiący głos: +Do broni! Do broni!+, młodzież porwała karabiny, nabiła je i pędem błyskawicy skoczyła za dowódcą. Było nas stu sześćdziesięciu kilku!".
W nocy z 29 na 30 listopada spiskowcom nie udało się zrealizować wszystkich zamierzeń. Grupie spiskowców atakującej Belweder z Ludwikiem Nabielakiem i Sewerynem Goszczyńskim na czele nie powiodła się próba pojmania wielkiego księcia Konstantego. Część konspiratorów nie widząc umówionego sygnału do rozpoczęcia walki, jakim było podpalenie browaru na Solcu, nie przystąpiła do działania lub uczyniła to z opóźnieniem. Pożar natomiast zaalarmował oddziały rosyjskie. W tym czasie w Warszawie stacjonowało 6,5 tys. żołnierzy rosyjskich i 9,8 tys. polskich.
Podchorążowie z Łazienek po krótkich walkach z przeważającymi liczebnie oddziałami rosyjskimi musieli przebijać się w stronę pl. Trzech Krzyży. Idąc przez Nowy Świat i Krakowskie Przedmieście zamieszkane przez bogate mieszczaństwo i arystokrację wznosili okrzyki "Do broni, Polacy!", jednak reakcją na ich wezwania było jedynie zamykanie bram i okiennic. Napotykani przez spiskowców wyżsi oficerowie polscy odmawiali udziału w "młodzieńczej awanturze" i nie chcieli stanąć na czele powstania. Część z nich za swój sprzeciw zapłaciła śmiercią. W Noc Listopadową zginęło z rąk spiskowców sześciu polskich generałów: Maurycy Hauke, Stanisław Trębicki, Stanisław Potocki, Ignacy Blumer, Tomasz Siemiątkowski i Józef Nowicki oraz kilku innych polskich oficerów.
Piotr Wysocki wciąż jednak liczył na pozyskanie mieszkańców Starego Miasta, dlatego kierował się w stronę Arsenału. Miał także nadzieję, że oficerowie należący do sprzysiężenia zdołają przeciągnąć na stronę powstania większość oddziałów Wojska Polskiego. Część regularnych oddziałów polskich rzeczywiście opowiedziała się za powstaniem, jednak wiele polskich jednostek było zdezorientowanych i albo zajęło stanowisko neutralne albo pozostało pod komendą ks. Konstantego.
Momentem zwrotnym Nocy Listopadowej stało się zdobycie przez warszawski lud Arsenału. Nastąpiło to ok. godz. 21 przy współudziale żołnierzy 4. pułku piechoty. Po północy jednostki Wojska Polskiego popierające insurekcję razem z uzbrojonym ludem opanowały rejon Starego Miasta, Arsenału i Powiśla, kontrolując także mosty oraz Pragę.
Momentem zwrotnym Nocy Listopadowej stało się zdobycie przez warszawski lud Arsenału. Nastąpiło to ok. godz. 21 przy współudziale żołnierzy 4. pułku piechoty. Po północy jednostki Wojska Polskiego popierające insurekcję razem z uzbrojonym ludem opanowały rejon Starego Miasta, Arsenału i Powiśla, kontrolując także mosty oraz Pragę.
Z kolei oddziały rosyjskie i jednostki polskie wierne wielkiemu księciu Konstantemu znajdowały się na północy w okolicach pl. Broni oraz na południu w al. Ujazdowskich, gdzie dowodził sam ks. Konstanty. Neutralne jednostki polskie stały na placach: Bankowym, Saskim i Krasińskich.
W ciągu nocy powstańcy opanowywali kolejno: Leszno oraz place Bankowy i Saski. Ok. godz. 8 rano w ich rękach znajdowało się już całe miasto z wyjątkiem pl. Broni i al. Ujazdowskich. Wielki książę Konstanty nie zdecydował się na szturmowanie stolicy i wycofał wierne sobie oddziały do Wierzbna.
30 listopada Warszawa była wolna, ale jej społeczeństwo – podzielone. Najważniejszym wówczas pytaniem było, czy podejmować otwartą walkę z Rosją, czy też szukać z nią kompromisu.
Warszawski lud opowiadał się za walką. Jednak wobec braku rządu powstańczego władzę przejęli konserwatyści. Próby negocjacji z ks. Konstantym, podjęte przez Radę Administracyjną, która nie wierzyła w powodzenie powstania i liczyła na porozumienie z księciem, zostały storpedowane przez klub patriotyczny złożony głównie z inteligencji, na czele którego stanął Joachim Lelewel, a jednym z najaktywniejszych członków był Maurycy Mochnacki.
Na skutek nacisków klubu 3 grudnia 1830 roku powołano Rząd Tymczasowy, na czele którego stanął ks. Adam Jerzy Czartoryski, a w jego skład wszedł m.in. Lelewel. Rokowania z ks. Konstantym zakończono ustaleniem, iż znajdujące się przy nim jednostki polskie wrócą do Warszawy, natomiast sam książę razem z wojskami rosyjskimi odejdzie w stronę granicy.
30 lat po zakończeniu powstania rocznica jego wybuchu stała się okazją do organizacji wielkiej manifestacji patriotycznej mieszkańców Warszawy. Odśpiewano wówczas pieśń skomponowaną przez Alojzego Felińskiego na cześć cara Aleksandra I, zmieniając jej refren na: "Ojczyznę wolną racz nam wrócić Panie". Manifestacja była jednym z wielu wystąpień, związanych ze wzrostem postaw antyrosyjskich, których wynikiem był wybuch w 1863 roku Powstania Styczniowego. (PAP)
---