400th anniversary of the arrival of the FIRST POLISH SETTLERS in America on October 1, 1608
Source: Polish American Cultural Center, Philadelphia; Published in 2008
It was in the summer of 1608 that the group of Polish glass makers who were in London, England establishing a glass making industry, set sail on the Mary and Margaret for their journey to America. Until that time, England imported the majority of its glassware from Poland. In early 1608, the Virginia Company of London decided that they would establish a glass making industry in America which could sell its products to England and other countries. Since the glass makers from Poland were successful in setting up a new glass making industry in London, they were commissioned to establish a new industry in America.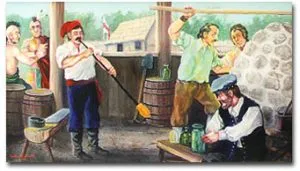 On October 1, 1608, the Mary and Margaret landed at Jamestown, Virginia and the Polish settlers first set foot on American soil. This group of industrious Polish workers contributed greatly to the establishment of the new settlement as they were not only experts in manufacturing glass, but also pitch, tar, and other products necessary for the success of the new colonies. Upon their arrival, the Polish settlers built a furnace and began manufacturing glass products. It was the glass products they produced which established the first factory in America and the first made-in-America products that were exported to Europe.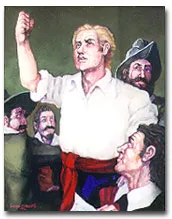 The Polish settlers were also the first to demand civil rights in the new land. When the first Virginia Assembly met on July 30, 1619, without the participation of the Polish settlers in the new representative government, the Polish workers reacted angrily. To protest this injustice, the Polish settlers organized the first labor walk-out. The assembly quickly realized that the Polish settlers were crucial to the settlement's survival and granted them the same voting privileges as enjoyed by the English.
The arrival of the first Polish settlers in America marked a humble, yet significant event into American history. Over the years, people from Poland continued to immigrate to America. Today Poles are the sixth largest ethnic group in America, residing in all fifty states and participating in every aspect of American life. Poles comprise a significant portion of the tens of millions of immigrants who have come to America from all over the world and now proudly call this nation their home. The 400th anniversary of the first Poles in America provides an excellent opportunity for persons of all national origins to reflect on the journey of their immigrant ancestors who continue to add shape and color to the American mosaic.
---
W roku 2016 minęła 408 rocznica przybycia pierwszych polskich osadników do Ameryki.
400 LAT POLSKIEGO OSADNICTWA W AMERYCE
Źródlo: Nauka w Polsce/www. pol-am.com. Opublikowano: 6.10.2008 r.
Jamestown – pierwsza stała angielska osada na ziemi amerykańskiej – powstała w 1607 roku.
1 października 1608 roku do Jamestown przypłynął statek "Mary and Margaret", na którego pokładzie znaleźli się Polacy zwerbowani przez kapitana o nazwisku John Smith – późniejszego pierwszego zarządcy Kolonii Jamestown.
Wśród nielicznie pozostałych po tamtych czasach zapiskach i kronikach można odtworzyć kilka nazwisk pierwszych Polaków, którzy pojawili się wówczas w Jamestown. Byli to rzemieślnicy, którzy zostali zatrudnieni przez londyńską firmę Virginia Company. Posiadali oni wysokie kwalifikacje w różnych dziedzinach produkcji dóbr materialnych.
Wśród zidentyfikowanych nazwisk znajdujemy Zbigniewa Stefańskiego z Poznania, Jana Mate z Krakowa, Jana Bogdana z Kołomyi, Karola Zrenice z Poznania, Stanisława Sadowskiego z Radomia, Michała Łowickiego z Londynu. Wkrótce dołączyli do nich kolejni Polacy – lekarz Wawrzyniec Bohun z Białegostoku, Mateusz i Robert z Pomorza Gdańskiego oraz co najmniej 50 innych.

Wśród nich byli wybitni i szanowani specjaliści z dziedziny produkcji cennej wówczas smoły, dziegciu, mydła, szkła, obróbki drzewa oraz mistrzowie budowy okrętów. Londyńska firma Virginia Co., świadoma jakości szklanych produktów importowanych z Polski, zleciła rzemieślnikom zbudowanie huty szkła w Ameryce. Polscy osadnicy w odległości 1 mili od Jamestown zbudowali w 1608r. pierwszą na ziemi amerykańskiej fabrykę – hutę szkła. Produkty, które były w niej wytwarzane jako pierwsze zostały eksportowane do Europy pod szyldem "Made in America".
Pierwsi polscy emigranci zasłynęli również zorganizowaniem w 1619r. pierwszego strajku w Ameryce. Kiedy odmówiono im prawa do głosowania, strajkując zażądali pełnych praw obywatelskich i politycznych. Władze ugięły się pod ich naciskiem i przyznały im prawo wyborcze.
Te niezwykłe i zaskakujące fakty historyczne dotyczące udziału Polaków w budowie największej potęgi gospodarczej na Świecie są zbyt mało znane, zauważane i wykorzystane.